Heads up, this SFI Review is going to be a bit controversial. The reason is that if you look it up on the internet, SFI does not enjoy much of a reputation fillrom its ex-members or those who review it while staying outside.
Since I wanted to have a first hand experience about this website in order to make sure that my view are not corrupted from the third person's view, I became member of SFI to gain experience about it. Of course, the primary reason was to be able to write a review but along with that, I also want(ed) to create a passive income stream. However, I also made sure that I don't dispel the opinions of its current and ex-members in order to reconcile my point of views in the first place as well as to reach a refined conclusion.
So after using the website for couple of months, here is my review about SFI.
SFI Review
What is SFI or SFIMG?
If we start with the abbreviation, SFI stand for Strong Future International and MG for Marketing Group. So the complete name of the website is Strong Future International Marketing Group.
Some people also say that SFI stand for Six Figure Income but that was the old name (I suppose) of it which changed to the one I mentioned above. Strong Future International.
Read: CB Passive Income 4.0 by Patric Chan – Review
History of SFI Marketing Group
SFI Marketing Group came into existence in 1998. So from durability point of view, this company seems to pass the test of time. Currently, headquarters in Lincoln, Nebraska.
Gery Carson is the owner and president of this company who, before 1998 made his name in the field of marketing and has been a distributor for several direct sales companies and a successful business magazine publisher.
According to the website itself, the company is the fastest growing company of it's kind and its on the way of achieving Gery's vision. What that vision is, I have no idea.
SFI Started with just one product 20 years ago and now there are over 90,000 products in SFI's store. Besides, the company claims that it has helped over 17 million people in more than 190 countries how to create an income stream for themselves.
So What is SFI All About?
Long story short, let me state what SFI OFFICIALLY is. Well, SFI is an oldest running affiliate network where its affiliates are asked to promote SFI's products present in its store, Tripleclicks.com.
In return, these affiliates earn commission.
That's the shorter and official version of what SFI claims itself to be.
Coming to the longer version, well, it does have a store, tripleclicks.com and every member automatically becomes the member of tripleclicks.com as well.
As soon as they're the member of SFI, they can promote products from the store and in return, bag commissions per sale. The affiliates also earn from the commissions of their referrals.
In addition to the affiliate program, an SFI member can also make money through its Paid-Per-Action (PPA) program. Each member is entitled up to $10 per qualified sign up.
That Sounds Simple – So What's The Catch?
Well, I've made it sound ridiculously simple. However, the truth is that the SFI World isn't that simple as I've made it look like.
For e.g. The whole SFI ecosystem is filled up with so much jargon and abbreviation that you'd need to dedicate yourself for at least a month in order to get hold of what a simple piece of instruction mean.
For e.g. when it comes to being a member, there are different levels and you have to complete different tasks on monthly basis in order to retain your membership level. Each membership has its own requirements and benefits.
You cannot just achieve one membership level and take a sigh of relief. You have to complete certain tasks again and again every month in order to retain that level.
Just to simplify a bit, you have to collect set number of Versa Points (VP) in order to retain any particular level of membership.
So before going further, let me explain what Versa Points are.
Read: Review of PTC and GPT Websites That Help You Make Money To Complete Small Tasks
What Are Versa Points (VP)?
Versa Points (VP) are the currency of SFI. You start as an affiliate (with 0 VP). In order to reach a level higher than a normal affiliate (Executive Affiliate – EA), you need to collect minimum 1,500 VP every month. You've read it right, the balance of VP becomes zero at the start of every month and you have to start all over again just to maintain your membership level.
Needless to say that the count of VP keeps on increasing if you wish to gain membership level higher than the EA. These are Bronze Team Leader (BTL), Gold Team Leader (GLD) all the way to the highest membership level Diamond Team Leader (DTL).
How To Earn Versa Points (VP)?
You earn VP by completing small tasks. You can find these tasks in the To-Do list. Most of the tasks are trivial though and you can complete them on daily basis. For e.g. like reviewing the SFI forum tab. However, you only earn small VP for these tasks.
Remember, you need to achieve at least 1,500 VP to become an Executive Affiliate (EA) from the basic affiliate level.
In the very first month, you can achieve 1,500 VP easily as some of the tasks like uploading your image and connecting with social media are one time activities which you can complete only once.
After the first month, earning VP becomes relatively difficult as the trivial tasks will only earn you so much. So you have to eventually resort to two major activities which help you earn most of the VP. These are:
Either buy or sell products from the Tripleclicks.com store – Or
Keep referring new members to SFI.
If you don't do either of the above, you won't be able to maintain your minimum numbers of VP every month thus putting your membership level at stake.
Read: Plug In Profit Site Review – FREE Money Making Setup By Stone Evans
What Are The Benefits of Becoming Executive Affiliate (EA) Or Higher Level Member?
The biggest advantage is the share in the TripleClicks.com's sales pool as well as you earn commissions from every sale that TripleClicks makes on the whole.
To cut the long story short, below is the image of the SFI's benefits page to give you an idea of the benefits "bestowed" on different levels of memberships. I know it may look a bit overwhelming a bit but the objective is to give you an idea of the SFI membership levels.
So How Does SFI Work?
In order to summarize whatever we've learned above before we move ahead is that you sign up and become a free member of SFI. That's right, there's no cost of joining SFI. Once you become a member, you can have two options. Either collect Versa Points (VP) or dedicate yourself selling products from the TripleClicks store. Both of these activities are not mutually exclusive as I said above, you can gain VP by making sales from the store as well.
In order to multiply your commission and/or earn more VP, you can induct referrals in your down line.
That's the gist of it.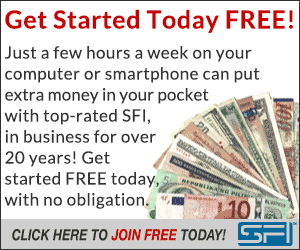 How Can You Make Money on SFI?
There are 3 ways you can make money on SFI:
Earn as many Versa Points (VP) as possible so that you get as many shares from the Executive Pool. The shares help you earn commissions from the overall sales in TripleClicks. This does not include only your sales but all the sales. So more the VP, the more earning chances you'll have.

Sell products from your store and earn commissions on each sales.

Build an SFI team and teach them whatever you do so that they're also able to copy that. Their earnings result in your commission. Besides, you also get the same VP that your referral earns. So if he earns 100 VP in a day, you will also get 100 VP.
There are couple of more money making ways on SFI but if we talk about the major ways to earn money on SFI then the above three will rank among the top.
Launch Pad – SFI's Training Program
If all of this sounds too much to digest already then don't worry. SFI's Launch Pad, which is the training module of SFI will help you get hang of the whole SFI's ecosystem.
The best way to go through is that you follow the series and don't overburden yourself. Even the SFI itself agree that there's too much information to wrap your head around so you better take it one at a time.   
Criticisms on SFI
Now, once I've cleared what SFI is and how you're supposed to find your way in this complex labyrinth of what they claim to be the largest affiliate network, let's us now touch the more important topic. That's discussing the criticisms on SFI from neutral point of view.
First, many former users of SFI and other reviewers of the website claim it to be an MLM program. They say that the whole purpose of SFI is to make make money to induct as many affiliates as possible who in turn try to make money by extending their down line as much as they can.
Second, criticism is that you cannot make money on SFI unless you spend money first. Since you have to start over every month in order to keep up with the minimum number of VP just to retain your membership level, you have to either buy or sell the TripleClicks products sooner or later in order to earn these points. Obviously, spending money to make money does sound like a scam though.
Third, criticism is that the store TripleClicks is just there to provide cover to SFI otherwise the unknown brands and sub standard quality of the products make it difficult to win customers. Thus most of the affiliates have to resort to the sales made by their referrals thus in practice making it an MLM program.
Fourth criticism is that why aren't there any success stories of SFI out there on the web? This questions becomes important when the program has been running for nearly two decades.
Responses To The SFI Criticisms
With the above criticisms in mind, I started digging in this program and found that some criticisms do hold water.
For e.g., as I said above, you cannot maintain your membership doing nothing. You have to keep promoting the SFI program. There's no moment of relief. Either get new referrals every month or keep making sales . In case you're not able to do both, the last option is to buy from TripleClicks. Whatever you buy, adds up to your VP. This does sound like a classical MLM scheme though. However, one way for you not to be a part of the monthly rat race is to build your down line and hope that they do the work for you.
So each Versa Point they earn, you get a corresponding VP. Hence, if you want to really earn something meaningful from SFI without promoting or buying TripleClicks products then you should work on building your team and teach them how to promote TripleClicks and SFI. The SFI program pays all the way down to the 7th level of your down line so even if your referral build their own team, it will eventually benefit you. 
In SFI's defence, I did find few people do making supplementary income from SFI and they have no problem promoting it. According to them, just SFI is also just like another business and it takes time to make material income out of it. Those who are complaining, either haven't researched the system or are those people who gave up too early. I guess that sounds fair enough. Every business does take some time to establish.
For e.g. one person in this forum is making $345 within 4 months and good for him, he expects to make $2,000 in the next 3 months. Especially in the third world countries, that's significant amount of money.
Why Aren't There Any Significant SFI Success Stories?
I think this can be attributed to many reasons.
First, SFI indeed isn't a get rich quick scheme and to be fair, they mention this fact in their training as well. So majority of the people just leave it once they find out that they have to really bend their backs before they enjoy a huge pay day.
Second, reason is SFI's own suggestion on its website to its members not to disclose their earnings. The reason they state is that they don't want to give wrong impression of the earnings as the level of income varies person to person and depends a lot on their personal efforts. This is the reason that if you dig in the SFI's own forums, you would find many marketers who are with SFI for a long time. They share and post all kinds of motivational stuff but never their earnings.
Here's an image from SFI's website forbidding its members to disclose their earnings.
In case above is too small to read, here's what the image says:
INCOME DISCLAIMER: SFI strictly prohibits its affiliates from publicly disclosing their own earnings because no one person's income is typical–but does show what is possible with time, effort, and dedication. What you earn as an SFI affiliate is wholly determined by your own individual efforts. SFI does not guarantee that any affiliate will earn any amount of income or any income at all from the promotion of our program. We provide our affiliates who are contractors, not employed by SFI, a commission earned for referring the sale of retail products. We provide training that has led thousands of affiliates to earn substantial income, but your ability to follow our training, and the amount of time and/or money you invest in your business, will determine your success.
Third reason could be that indeed SFI isn't that lucrative online money making opportunity as it claims it to be. Due to its nature of business, many members rely on their down line who in turn rely on their down line. This inevitably creates a chain of useless and good for nothing members. So it won't be surprising to see a member having a huge down line and yet earning nothing from SFI. This is not typical of the websites which have referral program and therefore, puts many of the SFI members off.
Having discussed the criticisms on SFI, let's very quickly analyze the pros and cons of joining SFI.
Read: Clixsense Review – Is Clixsense Scam or Legit?
Pros and Cons of SFI
Pros
Absolutely free to join

Online Marketing Training (Launch Pad Training) to help you get started with online promotions

Pays 7 levels deep in your down line.

This is a website with 20 years of experience under its belt. Therefore, adding up into its credibility

You get a store of your own (TripleClicks store) to promote.

Once you get enough VP per month, you can earn not only from your sales but the overall total sales taking place in the store.
Cons
Overwhelming amount of information. You'd need a whole month alone to understand what the actual purpose of SFI is and how you can make money out of it (provided that you don't get external help).

Need to maintain your membership level on monthly basis. Starting over every month literally sucks.

Too many inactive members

The store provides are duplicate websites hence difficult for them to rank well on Google or other search engines.

The products and brands on the TripleClicks store are not popular hence give marketers hard time to sell them.
Read: Neobux Review – Is Neobux Scam or Legit?
How Much Money Can You Make From SFI?
That's too difficult to say as it depends on lots of factors. However, SFI has given its own earning calculator so that you can estimate your earnings based on your down line. The results are based on 100% efficiency which isn't going to be the case in the real world.
Just for an idea, below is my monthly income estimate based on the assumption that EVERY MONTH 5 of my personally sponsored affiliates (PSAs) will become Executive Affiliates (EA). This means that they will earn 1,500 VP every month each. Additionally, 5 affiliates of my affiliates will also become EA. So in total, there are total 25 (5×5) affiliates in my down line who will become Executive Affiliates. Here's my income estimate based on the above information generated from SFI's earning calculator:
$135.30 per month after 6 months ($1,623.60/yr)
$1,458.30 per month after 12 months ($17,499.60/yr)
$3,159.30 per month after 18 months ($37,911.60/yr)
$5,508.30 per month after 24 months ($66,099.60/yr)
Even though, for me, earning $135.30 per month doing nothing is quite decent but still I have to hang in there for at least 24 months before I see something meaningful coming in my bank account .
Apparently, the key is to be patient and keep promoting SFI.
Payout Methods & Minimum Payout Requirement
SFI pays you via Paypal, check and Payoneer. The minimum amount before you request payout is $20.00
Read: CashCrate Review – Is CashCrate Scam or Legit?
Concluding SFI Review – What's My Verdict?
Is SFI Scam, Legit or MLM?
This the final curve ball before I wrap up my SFI Review and I hope to play it well. SFI is not a scam. That's for sure. You may find quite a few websites claiming it to be a scam but I'd say that's not the case.
A scam is a website which does not pay its members and leave them stranded midway after milking their efforts. However, SFI's been paying its members since the last 20 years. So I won't be that harsh. SFI is legit and definitely not a scam.
This brings to another question. Is SFI an MLM program?
Though it appears to be MLM to many of its members but I would give benefit of doubt to SFI. They have a store which you promote and in return earn commission. That sounds fair enough. Now, how its members wish to make money out of it, depends on them.
However, I do feel that SFI should ease up their Versa Points requirement a bit otherwise many of its members will resort to MLM marketing techniques. Which is what they actually do right now.
By the way being MLM is also not that bad as long as it's not illegal and does not promote illicit items. There's a certain stigma attached with MLM campaigns because it does not add value in the economy. Other than that, there's no such problem with MLM.
That's it from my side and before calling it a day, I'd say that if after reading this SFIMG Review you decide to give it a try and become its member, below is the (my referral) link to do so.