Pros
Extremely easy to use interface for beginners to get started
Extremely low, one-time price of $49 with great features
Hundreds of built-in templates, millions of royalty-free images, background music, and stylish fonts to customize videos
Unlimited video rendering in multiple languages with no hosting fee
Free access to future upgrades
Cons
Cannot create videos from scratch
Many built-in templates have very narrow customization options
No live chat support
Not suitable for advanced or heavy video editing
In this complete and detailed VideoCreator Review, we'll vet a recently released Video Creation Software that helps you create marketing videos in multiple formats. We'll see how much does the VideoCreator costs, what features does it offer, what kind of businesses or individuals should use VideoCreator, and most importantly, how can you make passive money online using VideoCreator?
In short, we'll let you know if VideoCreator is even worth your time and money and should you spend your hard-earned money on this video creation software.
But before getting started, I'd recommend you to go through this small but important affiliate disclosure.
Affiliate Disclosure
This article contains affiliate links and Passive Money Guru may get compensated should any reader decides to follow the link on this article and buys the product, however, it won't have any effect on their own price.
Read our Affiliate Disclosure Policy for more information
VideoCreator Review
What is VideoCreator?
VideoCreator (or VideoCreator.io) is an exciting new and powerful, all-in-one video creation software powered by A.I technology that helps you create videos in multiple formats, and different languages with some exciting never-seen-before features.
If there are too many adjectives in just one sentence then here's a simple version. With VideoCreator, you can create all sorts of marketing videos easily, and to add icing on the top, this cloud-based software is packed with some cool features that no other video creation software so far offers. At least what the VideoCreator claims.
What makes VideoCreator unique is that it has pre-built 650+ video templates, a powerful A.I builder plus a whole long collection of customizable video elements that makes the entire grueling process of creating awesome marketing videos a whole lot simple.
Especially for total newbies!
Now, I'm sure that you must be hooked by now to see that what kind of features does VideoCreator offers but before that, just to establish an even better rapport, let me first tell you about VideoCreator's founders.
Here's a brief intro that explains what VideoCreator actually is and what can you do with it.
About The VideoCreator's Founders
Paul Ponna
Paul is a serial entrepreneur who's already had some great SAAS products under his belt and the majority of his products are in the realm of video creation like VideoPal, VideoRobot, VideoBuilder, etc.
In addition to releasing exciting new software, Paul also provides digital marketing consultancy to his clients.
With more than 14 years of experience, this award-winning entrepreneur's SaaS products have so far earned him millions online.
Started at the tender age of 16 and $20 to buy a domain for his website from home in Canada, being an online marketer himself Paul's is very well aware of the nuances of digital marketing and the challenges that online marketers have to face when it comes to convey their message through the medium of video.
And this is what he's tried to address in VideoCreator.
Sid Diwar
Sid is also an award-winning tech-entrepreneur from Canada.
In addition to founding and releasing technology products, he also provides copywriting and business consultancy services.
Again, just like Paul above, VideoCreator is not Sid's first brainchild as he already has quite a few popular cloud-based software under his belt.
VideoCreator Pricing
So how much does the VideoCreator cost?
Well, that's slightly difficult to answer. Since the product is only recently released, the founders keep changing their prices.
It seems as if that they are still looking to hit the goldilocks region.
Having said that, as of writing this article, the original price of VideoCreator is $67. Currently, they are offering a discount of $18 so you can claim your lifetime access for just a single payment of $49.
Although, I'm not sure for how long this discount is going to stay there.
VideoCreator – Features
After going through the cost, we should now look at the features that you can get your hands on against the above price.
So here's a list of complete features packed in VideoCreator and that you can claim access to for just a single payment of $49.
Hundreds of Ready-made Video Designs & Templates
To make the process of video creation simple and quick, you will find hundreds of ready-made video designs and templates in VideoCreator.
These templates are suitable for a wide range of businesses which means that no matter what your business is you'll find a design template in VideoCreator that you can use to create mind-blowing videos.
Numerous Customization Options to Add Versatility & Add Your Own Character in Your Videos
Ready-made templates are all right but what if you want to customize your videos and apply your own flare, tone, and project your overall brand's theme to them?
Well, VideoCreator allows you the liberty of being liberal with your thoughts and apply customizations that suit your own brand image.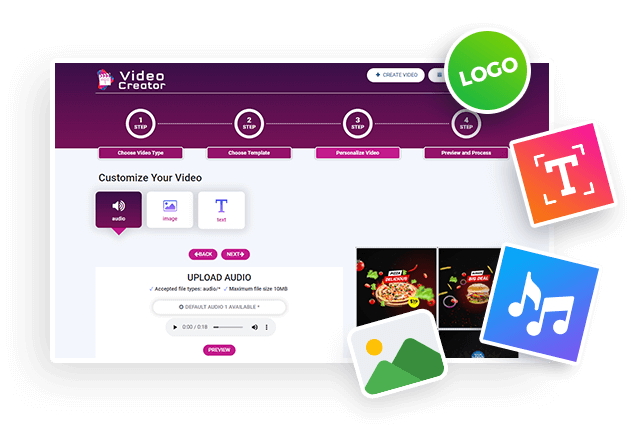 You can customize logos, text, colors, images, music, and countless other features in your videos to create a masterpiece.
Easy-to-Use Dashboard
The real strength of VideoCreator comes from its ease and simplicity. The dashboard from where you can control all your activities is quite intuitive and simple to use which means that the learning curve is not so steep and a designer without any technical knowledge can get up to the speed without wasting his precious time.
Create Videos in all Sizes, Shapes & Platforms
Different platforms require videos in different shapes. Similarly, you may also need to create videos in different shapes such as rectangular, square, landscape, or vertical.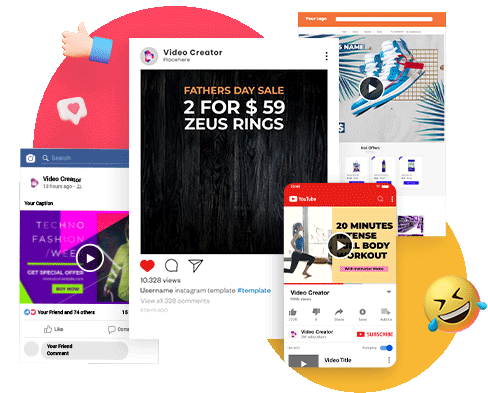 With VideoCreator you can create videos in different sizes and shapes so that they can be used for different platforms.
Millions of Royalty-Free Images & Video Assets
Those who have used video hosting platforms like YoutUbe, etc. may know that how strict are they when it comes to protecting the rights of creators. This means that you cannot use images, videos, or sounds that violate copyright laws.
Due to this hyper-vigilantism, sometimes, even genuine videos get flagged and get taken down. So you have to be cautious while creating videos.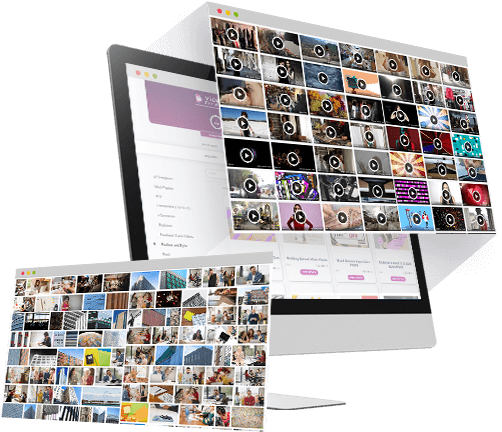 With VideoCreator, you have access to millions of royalty-free images and other video assets. These are not from VideoCreator's own database but you get access to the databases of popular stock image websites like Pexels and Pixabay so that you can use them without of your websites ever getting flagged for copyright infringement.
Copyright Free Soothing Music Tracks
Once you are a VideoCreator user you don't have to worry about hiring studios to create background music for your videos so that they don't appear bland.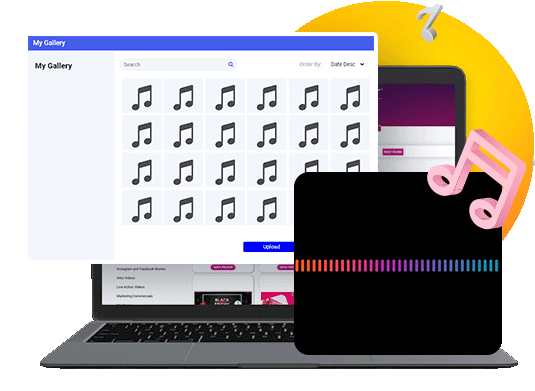 VideoCreator has a database of stunning music collections that you can use in your videos. These are free to use so just like the images above, you don't have to worry about violating any copyright law.
Unlimited Video Rendering at No Monthly or Yearly Cost
Once you have paid the one-time fee, you don't have to worry about any limits on rendering videos or paying any monthly or yearly subscriptions.
A huge advantage of using VideoCreator is that it imposes no limit on the number of videos that you want to render
Render Full HD 720P Crystal Clear, Pristine Quality Videos
The quality of the videos that VideoCreator allows you to render is 720P in HD without paying anything extra. No watermarks, no extra fees, these HD quality videos will help increase your views and ultimately, higher conversion.
Create Immersive 360 Degrees Animation Video
Add cool animations, text, logos, and even use the modern A.I technology to remove green backgrounds and create immersive 360 degrees pop-up animation videos.
These videos are quite modern in digital marketing that will boost your marketing efforts and sky-rocket your revenue.
100% Cloud-Based – No Need to Install or Buy Fancy Equipments
What's the biggest advantage of going on the cloud?
Simple!
You can use top-notch software with resource-intensive features without having to invest heavily in fancy systems.
That's true for VideoCreator as well. You can use the features that are only available in advanced software with your normal computers. Features, that would have otherwise cost you a fortune if you were using any desktop-based software.
No Video Storage or Hosting Cost
Although you can create and render unlimited videos VideoCreator does not put any cap on your storage. Neither does it charge anything extra on storage or hosting so that you can be absolutely carefree while rendering unlimited videos.
Upload Your Own Voiceovers & Other Media Assets
Record your voice and add it to your video. Additionally, you can add your own logos, background music, and other media assets to provide your own flare and tone to your videos.
Exciting Visual Effects
I've kept the best for the last. We've seen that how VideoCreator provides pre-built templates for your videos. Now, to add icing on the top, you can make your videos even more interesting using some high-tech visual effects.
Motion Tracking, Logo Mapping, 3D visual and live-action featuring real humans, Scroll stoppers, doodle video and many more that makes VideoCreator is one of the most Advanced video builder tools that will not only increase your engagement but will make sure that your videos are watched entirely.
Bonuses
With every VideCreator account, you get 4 exciting bonuses worth $1,088 in value. Below are these bonuses.
Bonus #1 – Commercial License ($197 Value)
Sell your videos and doodles to your clients without raising any brows as you have full commercial rights to the videos. Great way to start your video creation agency or a freelancing career.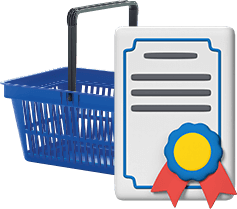 Bonus #2 – Unlimited Video Renders Forever ($497 Value)
With just a one-time payment of $49, you can render unlimited videos for life. No extra cost for rendering or storage.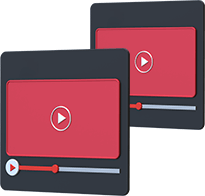 Bonus #3 – Unlimited Background Removal ($197 Value)
Remove background images from your images and video assets without paying anything extra. Background removal is also an in-demand service that many businesses ask for. With VideoCreator, you get this feature absolutely free.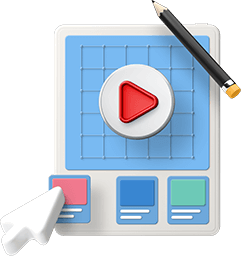 Bonus #4 – Huge Font Library ($197 Value)
No designing job is complete until they are adorned with stylish and unique fonts. You can elevate your videos, make them even more elegant using the huge font library that you get for free with VideoCreator.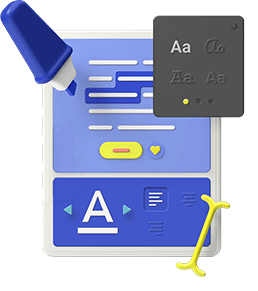 Upgrades
VideoCreator upgrades are NOT free of cost. However, this does not mean that you have to buy them to make the basic VideoCreator work properly.
Your original or the basic VideoCreator is quite sufficient to churn out high-quality videos with all the required features, however, with upgrades, you can buy extra features.
Now, what are these features?
Read below to find out.
Upgrade #1 – VideoCreator Deluxe – OTO ($67 Value)
VideoCreator Deluxe OTO upgrade is available at a one-time payment of $67. Here are the extra features and benefits of this upgrade:
Render 6 videos at a time
200+ Premium Video templates unlocked immediately
Access to Agency account – 5 users can simultaneously log in to your account. Ideal for teamwork.
Done-For-You Agency website so that you can sell your videos for top dollars
Render your videos in 1080P Ultra-HD
20 new templates unlocked every month for 1 year (without any extra cost)
200 Premium Music Files Library
Done-For-You Agency Marketing Bundle (such as letterheads, invoices, brchures, ready-made emails, etc) to automate the selling process
Done-For-You legal client contractsto close big ticket sales
VIP customer support & priority software updates
Upgrade #2 – VidEditor Unlimited – OTO ($49 Value)
VidEditor is a 3-in-1 Video Editor, Screen Recorder, and Video Animation app that helps spice up your videos created in the VideoCreator app. VidEditor provides you advanced features to edit and organize your videos that closely resemble the popular Camtasia software but with a less steep learning curve.
Here are some more features of VidEditor:
Totally cloud-based so you don't have to worry about your computer giving up when editing long videos
Webcam Video Recorder
In-App Voice Recorder
Powerful Screen Recorder
In-built Text-to-Speech feature
Green Screen Removal
And many other video editing features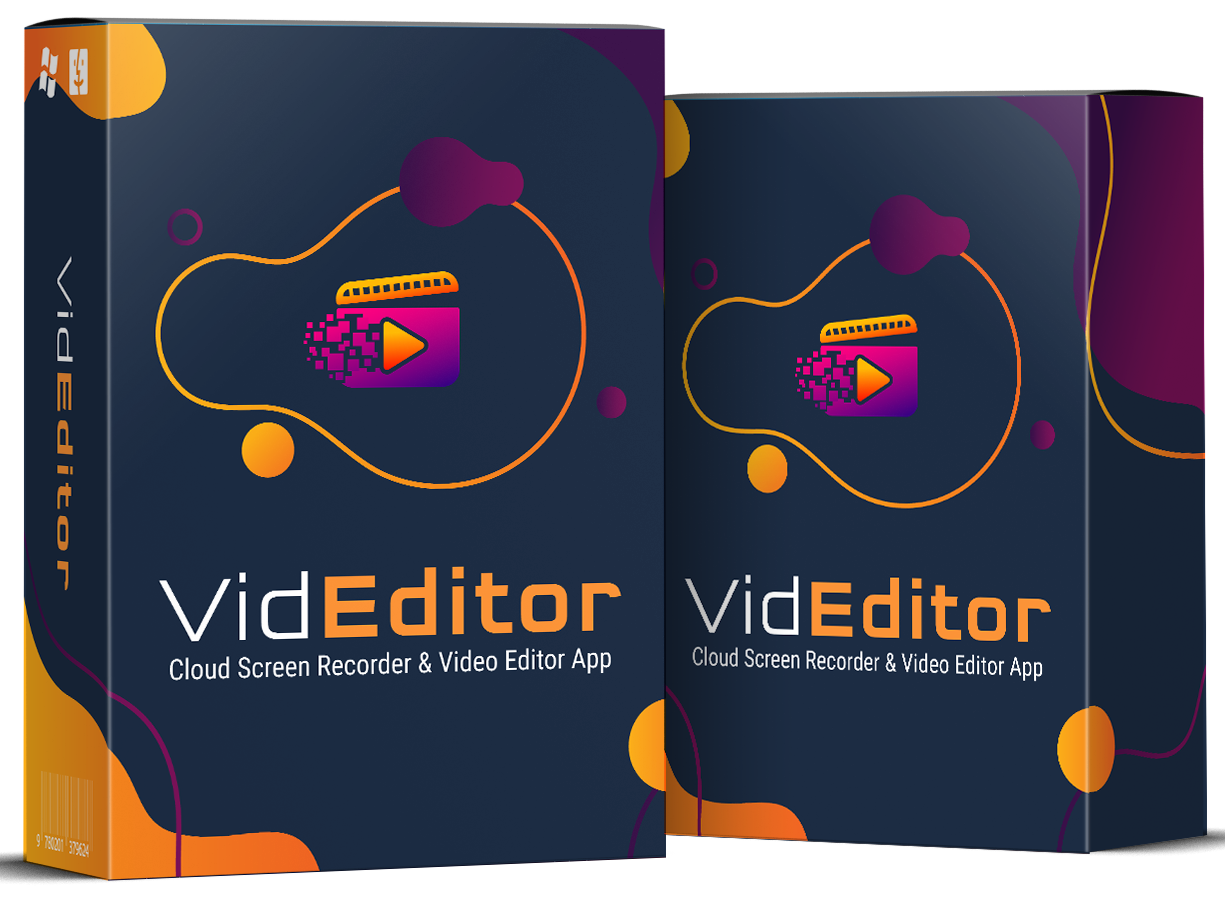 Upgrade #3 – VoiceSuite Unlimited – OTO ($39 Value)
VoiceSuite Unlimited app is a text-to-speech app that converts your script into different life-like male and female voices. Here are some of the salient features of this awesome app:
52 major language and accents
Render out voices in MP3
290 life-like male and female voices
Commercial license to sell your voice-over videos to the clients
Adjust speed, pitch and even add pauses in speech
unlimited usage for lifetime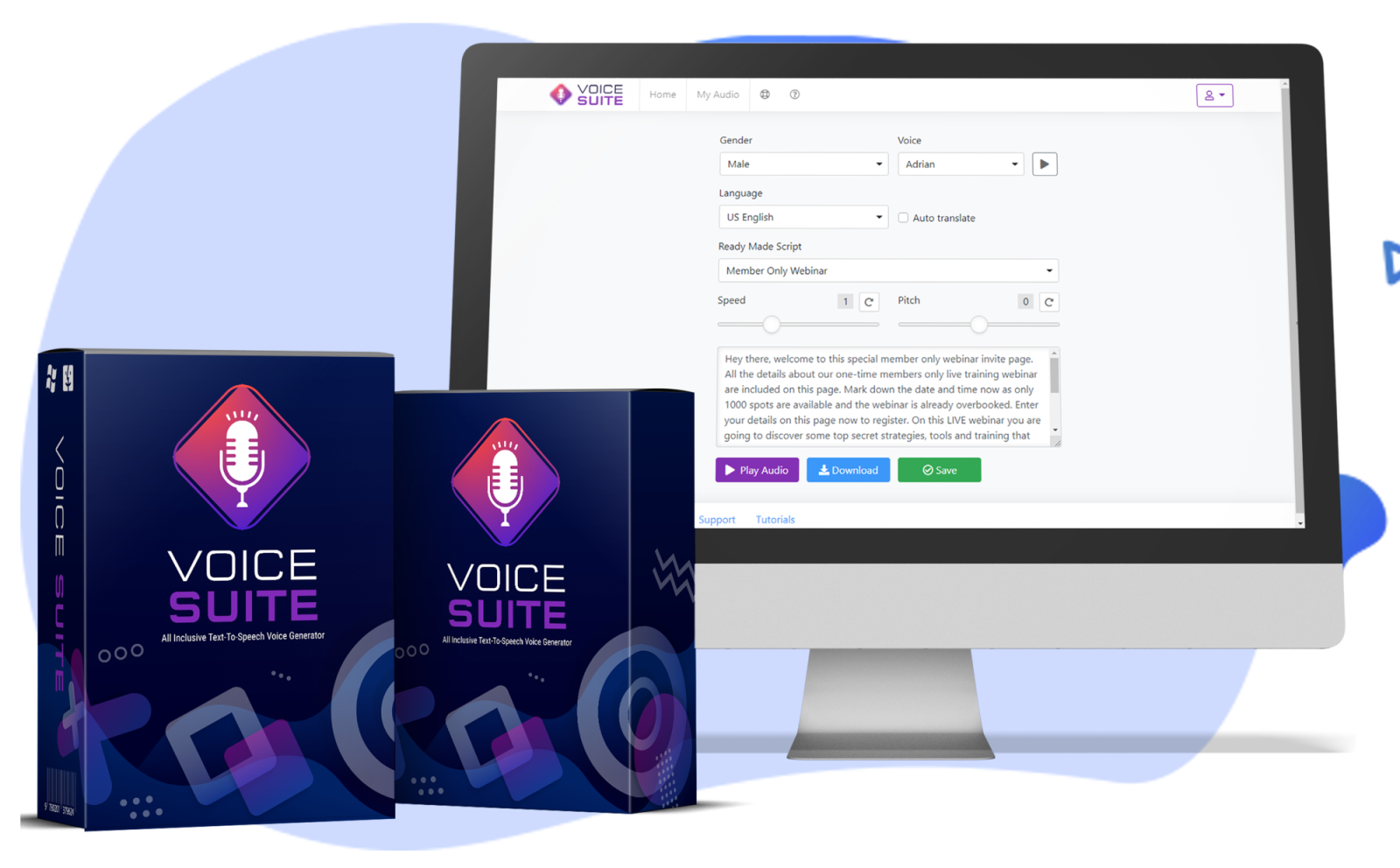 Upgrade #4 – VideoPlayer Unlimited – OTO ($37 Value)
Convert any YouTube or Vimeo video into a distraction-free, ad-free video player. This app has cracked the code and creates stunning video
Turn YouTube and Vimeo videos into a premium video player without ads
Huge library of Video Player themes without any extra monthly cost and distraction of ads
Wide variety of pre-designed color sets to make your videos stand out
Customize your logos and watermarks
Next-Gen Video Autoplay Technology to autoplay videos at lightning speed
Add animated and attention-grabbing Play button to entice your visitors to click and watch the video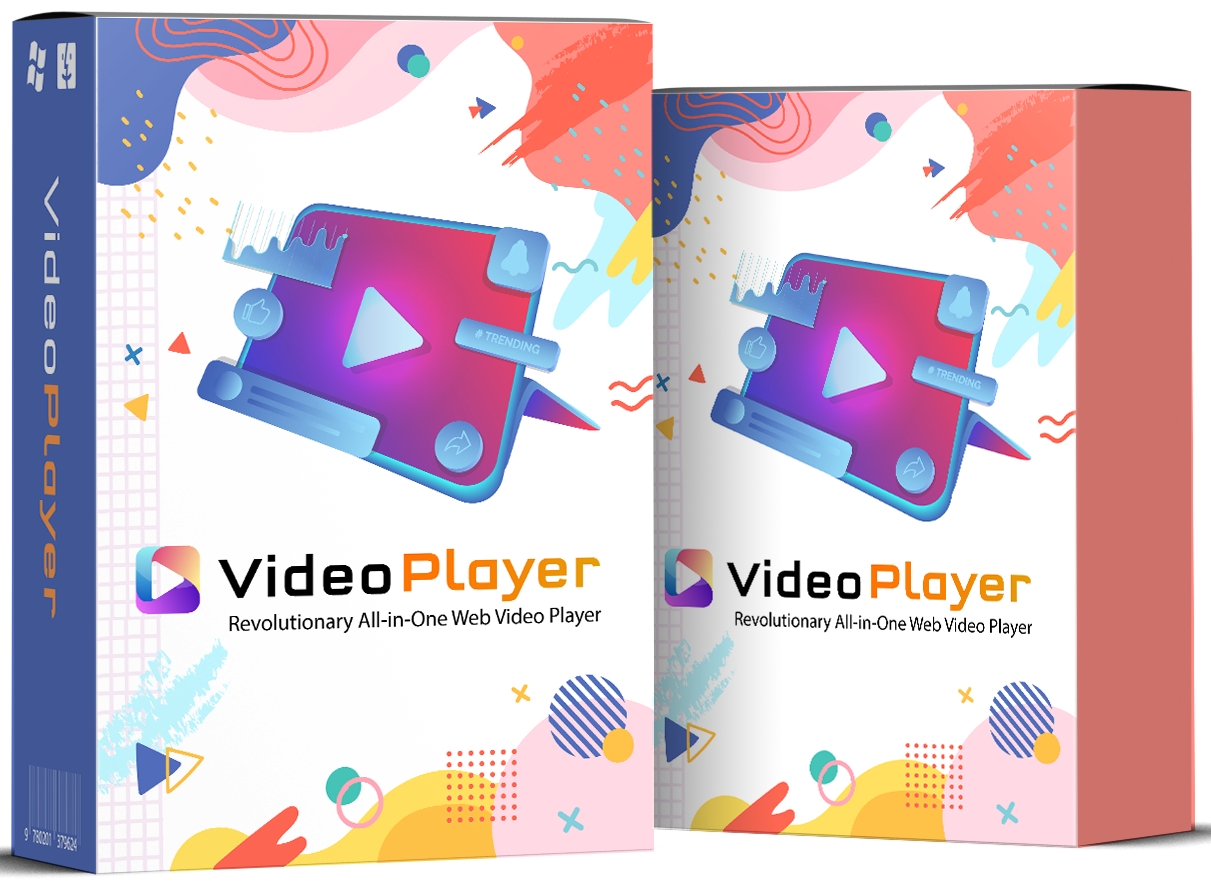 How Many Types Of Videos Can You Make From VideoCreator?
In addition to what looks like a never-ending list of features, the biggest strength of VideoCreator comes from its ability to create various kinds of videos.
As a marketer, it's very unlikely that you will feel that you've been left out by VideoCreator when it comes to creating videos that specifically work in your line of business.
Let's have a look in detail at the types of videos you can produce using VideoCreator.
Scroll Stopper Showreel
Create engaging scroll stopper videos for your social media audience

Scroll Stopper videos work effectively to grab attention immediately

Best for social media marketing as they increase video views, enggement and ultimately your FB and SM ads ROI

Ideal for all major social media platforms like Facebook, Instagram, Twitter, LinkedIn etc.
Corporate Commercial Showreel
Create professional-looking corporate commercial videos for commercial clients

Corporate commercial showreels are an ideal way to convey formal and official messages to the business's clients

Add & insert your logos, text and other business brandings dynamically using the modern, motion-tracking technology
Motion Tracking Showreel
Map the motion of the subject in the video and make other elements follow that subject

Use motion tracking to add and emphasize your own brand or specific message

Insert your own brand or text in a seamless and hyperrealistic way on any object in the video
Video Flip Books Showreel
Use the modern flip book video showreel to present coporate, business and artistic information

Popular among artists, designers and creative professionals to present their stories and information in an elegant way
E-Commerce Products & Mockup Showreel
Showcase your product designs and mockups and other products to the world in a stylish, cool, and hip demeanor

Explain each and every features of your product in an interesting fashion and increase your engagement as well as overall conversion

Ideal for e-commerce brands and social media stores
3D Animation Showreel
Get your message acroos the board using beautiful 3D animations

Avoid paying your hard-earned fortune to expensive animators

With VideoCreator you can creator immersive videos with 3D animations in mere minutes without any technical skills
Real Estate Showreel
Land more clients by creating real estate showreel

Showcase your properties & add description of your them in the video

Add basic animations, visuals and texts to make your showreel even more exciting and more informative
Local Business Showreel
Promote your small local business by creating stunning videos laden with cool animations

Create professional chat bubbles to make the video appear more interactive

Customize backgrounds and add your logos to promote your brand
Special Event Showreel
Make your special events even more memorable using VideoCreator's Special Event Showreel

Add deep and descriptive texts to provide useful information and make your videos even more poetic
More Videos Showreels…
Benefits of VideoCreator – Why Should you Use VideoCreator?
Before answering this question, the real question that you need to ask is that…
Why should you use any Video Creation Software anyway?
And the reason is that lately, video has become the go-to marketing strategy for many brands.
The reason is that of all the marketing channels, Video has given an extra edge and has resulted in more engagement and conversions. In fact, in a survey conducted by Wyzowl, a popular video creation agency, video provides great ROI.
Here's the excerpt…
Now, once you know and appreciate the importance of video, let's see how VideoCreator can help you in achieving your marketing, sales, and income goals let's see some more benefits that you can gain from using VideoCreator
1. Save Your Precious Time Using VideoCreator's Drag-and-Drop Cutting Edge Technology
As things are changing rapidly, it wouldn't be wise to keep using those old boring video creation software that takes ages to churn out videos.
With VideoCreator's modern and cutting-edge technology, complimented with ready-made and built-in templates for literally hundreds of niches, all you have to do is to drag-and-drop video elements and voila, you have just saved your precious time and yet created a stunning video without even compromising on the quality.
2. Create Stunning Videos Without Even Any Technical Knowledge
Despite its state-of-the-art technology, I'd still say that the underlying mantra of VideoCreator is the ease of use to its users.
We've already talked about the simple to follow, drag-and-drop technology above. Now compare that with any professional-level popular video editing software, I'm quite sure that VideoCreator fares way better than this software.
However, let me be very clear. Just to make a sale to mint money, I won't say that pound-for-pound VideoCreator is better than softwares like Adobe or Corel. they obviously have far better options.
The point I'm trying to make is that how many times does a user have to walk the extra mile to create a simple marketing video by using the never-seen-before feature?
I'm sure that the majority of the time just the requirements are very basic and this is where the strength of VideoCreator lies. It just cuts the learning curve and makes it quite simple even for a layman to create and edit stunning videos.
3. Create Professional Grade, Studio-Quality Videos in Minutes
We've already discussed all the technical mambo-jumbos above and to be honest, an average user is more interested in the solution and the value any software adds than the technology under the hood.
Obviously, most of the users are not at all interested if the software is using the age-old or the modern tech. They are just interested in the quality of output at the lowest cost and time possible.
VideoCreator
4. Save Loads of Money That Gets Paid to the Freelancers, Advertising or Content Marketing Agencies
Want to slash the advertising cost that you pay to different professionals, marketing agencies, and freelancers to create videos?
Since VideoCreator makes it super-easy to produce quality and professional-looking videos it saves money and time that you would otherwise pay to say, an expensive freelancer who provides you video after weeks only to find out that the quality is not up to the mark.
VideoCreator cuts through this whole ordeal and in turn makes the expensive and grueling journey of creating videos a whole lot easier and economical.
5. No Need to Buy Expensive Computers & Install Heavy Systems – It's All in the Cloud!
Imagine all the investments that you need to make in buying expensive PCs and fancy equipment to create, design, and edit videos.
I can still remember my cousin, who was into graphics designing, had to pay a steep price (even more than my monthly income at that time) to buy a super-expensive gaming laptop just because he had to complete his graphics designing projects for the clients.
That's totally another story though that he ended up playing online games and watching seasons on it but my point is that with VideoCreator since everything is on the cloud and all you have to worry about is a good internet connection, you save tons of money on fancy equipment and software.
Besides, you also don't have to worry about installing them, making sure that they are up to date, and then paying a periodic subscription again and again.
That's quite a lot of saving both in time and money.
6. Boost Your Online Revenue, Business, Traffic, Social Media Engagement, and Even Conversion Rates Using the Power of Video
An important question that needs to be answered.
What's the point of creating fancy-schmancy videos?
Yes, a few could say just to appease our desire and quench our thirst for creating beautiful art. Nothing wrong with it.
However, I'm quite sure that the majority of you want to boost your business, skyrocket your income or improve your social media engagement (which more or less means the same).
All of this can be achieved by creating videos.
According to a survey conducted by a video production agency, Wyzowl that I've appended below, brands and businesses claim that videos have expanded their businesses by capturing more leads, increasing user engagements, and ultimately, sky-rocketing revenues.
So coming to my point, the biggest benefit that VideoCreator provides is that it can help you achieve your target of beating your competitors and standing out from them and ultimately, taking your business to the next level.
7. Start Your Own Content Creation Agency or Start Working as a Freelancer
With every VideoCreator subscription, you get a commercial license to sell videos created through this software.
According to Forbes, digital video production is more than 135 billion dollar industry and this was back in 2017. In these 4 years, this has only gone up and now more and more employers are looking for professionals who can create attractive videos for them.
And this can be confirmed from the various popular freelancing websites such as Upwork, Fiverr, etc.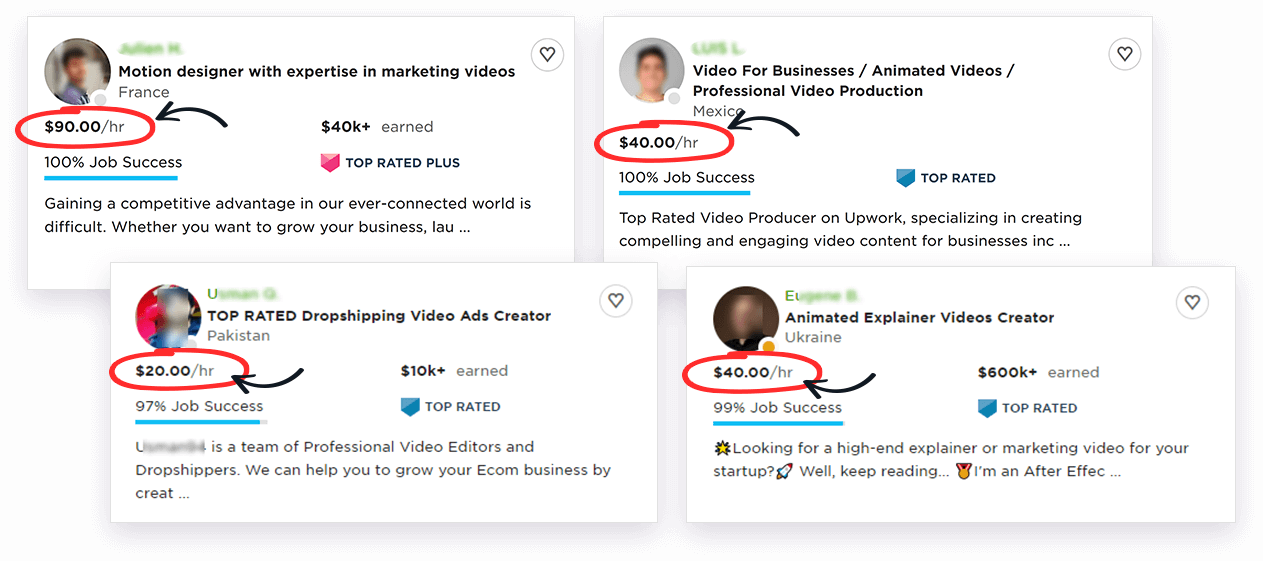 VideoCreator helps you take your due share in this gigantic 135 billion-dollar pie of the popular video production and marketing industry. Just imagine the huge potential that you can benefit from. Just think that even if you can tap just the 0.0001% of this market, you can easily enter the 7-figure club.
Enough talking!
Now, let's see very briefly that how can you create stunning videos in VideoCreator in just 3 simple steps.
How To Create Awesome, Stunning & Professional Looking Videos in VideoCreator In Just 3 Simple Steps
The best part of creating videos in VideoCreator is that it doesn't require you to acquire extensive technical skills.
The software is so easy to use even for a layman with very little to no technical skills that he can create mesmerizing videos by just pointing and clicking on his screen.
Here are the simple steps he needs to follow:
#1. Select From Hundreds Of Ready-Made Templates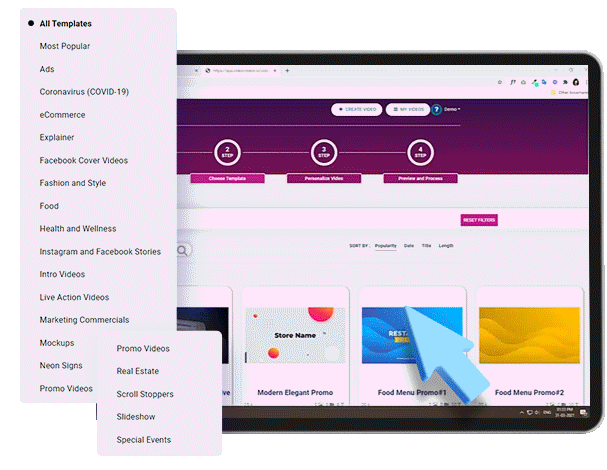 You'll find pre-built templates for almost every niche. Just choose from
#2. Customize Your Designing Options
You can customize everything. Your logos, text, music, watermarks, backgrounds, etc. VideoCreator allows you to add your own touch and customize your videos and make them more appealing and make unique videos for your brand.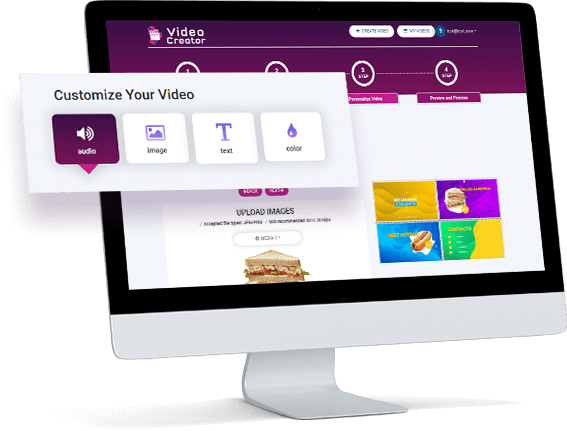 #3. Publish Your Video
That's it. Now you're all good to publish your video. You can publish unlimited FULL HD quality videos for your websites, e-commerce stores, social media, and other digital platforms.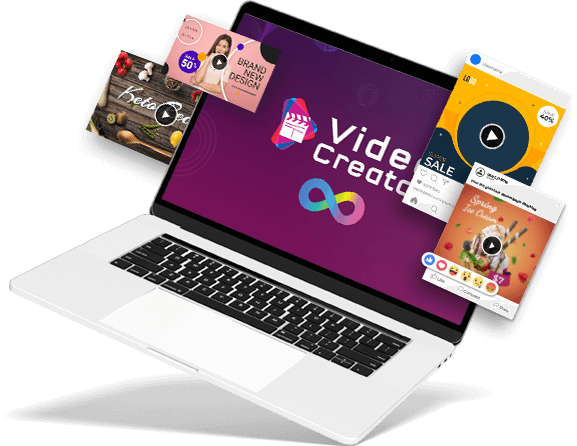 Who Should Use VideoCreator?
That's an easy list to draw as almost everyone needs video as a medium to convey his message effectively. However, to be more precise, I'll still give you precise hints that for whom VideoCreator is best:
Bloggers/YouTubers/Social Media Influencers and other online content creators
Teachers
E-Commerce businesses
Freelancers
Digital Marketing and Video Production Agencies
Realtors
Normal brick and mortar businesses
And many more…
What Makes VideoCreator Stand Out From Its Competitors?
Now, a very important question.
Why VideoCreator? Why not any other video creation software? What makes VideoCreator stand out from its competitors?
Well, here's the answer.
Let's have a look at the distinctive features that make VideoCreator stand out from its competitors.
Extremely Low Price
As of this moment, VideoCreator is offering the lowest price when compared to its competitors. Just a one-time payment of $49.
Sure there are other video creation softwares whose subscriptions are way lower than that but they demand a monthly recurring fee.
Having said that, it does seem like that VideoCreator does not seem to carry on this advantage for a long time as they clearly say that just like their competitors soon they will introduce a monthly subscription model as well.
Nevertheless, until that happens, I believe we can consider this as an edge over its competitors.
Easy-To-Use UI for Laymen
What I believe is that the real strength of VideoCreator comes from the fact that it is extremely beginner-friendly and even if you are a complete rookie you can achieve a lot without breaking a sweat.
The reason is, of course, the built-in templates and design features that are available in millions.
Millions of Royalty-Free Images & Other Video Assets
Video-sharing platforms like YouTube are quite strict on copyright laws and don't take long to block your videos if you infringe on them. Keeping this in view, VideoCreator provides millions of royalty-free images so that you don't have to spend anything on hiring professional photographers, graphics designers, or buying subscriptions of stock photo websites.
Pros & Cons
User Reviews
VideoCreator has been receiving some stellar reviews. I agree that most of these reviews are from the affiliate marketers promoting VideoCreator and that is why I'm not including them here.
What I tried to look for is the review from actual users and although the product does have some cons which I have discussed above but I could find very few negative reviews. Probably since the VideoCreator is still new I believe that it will take some time before the users start showing up complaining.
Before jumping on to the reviews from the third-party websites, let's have a look at the testimonies at the VideoCreator's own website.
These are the testimonies from VideoCreator's own website so watch them with a pinch of salt. I don't mean that they may not be genuine. It's just that for obvious reasons, the testimonies on the product's own websites are quite tilted in their own favor.
So I just want you to keep that in mind.
Now, I searched different forums for VideoCreator Reviews from the users and managed to get my hands on some. Let's start with the positive reviews first:
Positive Reviews
Negative Reviews
Now, here's a negative review. Although I do agree with the reviewer on some parts, other parts are a bit harsh. Nevertheless, it's a good, detailed criticism to give you a full picture.
How Can You Make Money From VideoCreator?
Since video is becoming the go-to medium for online marketers, I believe it won't be difficult for you to comprehend that how can you use VideoCreator to make money online and most importantly, creating a passive income stream for yourself.
However, I'll still jot down a few of them to give you ideas. Of course, the list is not exhaustive.
So here are a few ways you can make (passive) money online using VideCreator
Start a video creation agency – I have already mentioned this above so I won't go into the details of the huge potential of this industry. Keeping it short, since VideoCreator provides hundreds of pre-built templates and wide range of features, the video creation process becomes a whole lot easier, quicker and rich. This means that you can approach more industries and provide them marketing and other videos in the least amount of time and resources.

Start your freelancing career in video production – A simple one minute video can be sold from $100 to $1,000 USD. Not only that, professionals with video creation skills are in high demand globally and many of them can be seen demanding $40-$60/hr. That's quite a lucrative compensation especially when you compare it with the minimum wage in the US ($7.25/hr).
So, if you want to start a freelancing career in video production, VideoCreator can be your best bet.

Showcase your e-Commerce products – VideoCreator provides separate feature to showcase e-commerce products. This makes it possible to market your products in a much attractive way than any other marketers ensuring better reach, boosting brand awareness and therefore, increase in revenue.

Cutting down your advertising cost – It is said that a penny saved is a penny earned. VideoCreator allows you to create fancy videos at the lowest possible cost and we've already discussed how.

Enhance your social media engagement – Video has already become the go-to source of communicating with your target audience. And that's quite logical. People prefer visuals over text-based medium of communication. With VideoCreator you can increase your social media presence and engagement using videos. In turn, this will provide you a steady stream of loyal users hence a passive income stream.

Create and sell video-related courses – Using VideoCreator you can create whiteboard and explainer videos. Which means you can create your own courses, guides and tutorials, upload it on YouTube or any other video sharing platform or offer it at some cost or as a bonus to collect email leads for email marketing. All of these strategies can create a good source of active or passive income.
As I said, the above is not an exhaustive list and it all depends on the creativity that shows can you use VideoCreator to make a living for yourself.
So make sure that you don't miss out on the opportunity of getting your hands on this awesome video production software at one time very low price before it soon turns into a monthly subscription.
Frequently Asked Questions – F.A.Qs
Q1. What is VideCreator?
VideoCreator is a cloud-based, all-in-one video creation app that helps you create professional-grade, studio-quality marketing videos in all shapes, sizes, and languages.
Q2. How much does VideoCreator cost?
Currently, it just costs a one-time payment of $49 to get lifetime access to VideCreator.
Q3. Is this a one-time payment?
Yes.
Q4. Is there a money-back guarantee?
Yes, VideoCreator provides a 30-day money-back guarantee to its users.
Q5. Do I get FREE upgrades in the future?
Yes, with lifetime access, you will get all the FREE upgrades in the future.
Q6. In how many languages can I create videos using VideoCreator?
You can create videos using VideoCreator in all languages.
Q7. Are there any bonuses available?
Yes, there are 4 bonuses:
Commercial License
Unlimited Video Renders
Unlimited Background Removal
Huge Font Library
Q8. Are there any upgrades available?
Yes, there are 4 OPTIONAL upgrades:
VideCreator Deluxe
VidEditor Unlimited
VoiceSuite Unlimited
VideoPlayer Unlimited
Q9. Can I sell videos created from VideoCreator?
Yes, you have a full commercial license to sell videos and keep all the profit.
Q10. Can I upload my own images and other media files?
Yes.
Q11. How many videos can I render?
You can render unlimited videos with VideoCreator.
Q12. Do I need to install anything?
No, VideoCreator is 100% cloud-based so you do not need to install anything.
Q13. Does VideoCreator provide any training to use this app?
Yes, with every user account you get access to tutorials and guides. Additionally, you also gain access to a private Facebook group, Skype Mentorship Group Access, and 8 weeks training webinar.
Q14. What is the quality of support? Does VideoCreator provide 24/7 Live Chat support?
The quality of support is decent and email-based. You can expect to receive a response from their support team within 24 hours. So far, VideoCreator does not provide Live Chat support and this is where they can definitely improve.
So What's The Verdict? Do I Recommend VideoCreator?
A tough question.
And the reason is that there's no simple yes or no.
Sure, VideoCreator is a legit product that gives you a great bang for your bucks and can help you kickstart your freelance career in video creation, however, to what extent can you stretch it to produce videos, is something that you need to be wary of.
If your requirements are not too advanced, VideoCreator can be a good option for you, however, as soon as they become more advanced, it's better to switch to the more specialized graphics designing tools.
Similarly, although customization is available but for many templates, the room to customize them is quite narrow so you should expect to create a whole new video from scratch.
As far as the price vs features ratio is concerned, I'd give a thumbs up to VideoCreator as you can do a lot with just one payment of $49.
So I'll conclude my VideoCreator Review here. If you want to give VideoCreator a try then you can follow the link below.