Are you confused about deciding between single vs double opt in email subscription forms for your email campaigns?
Despite one of the blandest forms of marketing (my personal opinion, you don't need to agree), Email Marketing still enjoys the reputation as one of the best channels to get your message across and this is the reason, why it ends up top of the line when it comes to comparing the marketing ROI vis-a-vis other marketing channels.
When compared with other forms of digital and electronic media marketing, according to Campaign Monitor, on average, Email Marketing delivers the best ROI of $44 for every dollar spent. That's insane when you put things in perspective and compare it with other popular forms of marketing such as television ads that give an ROI of just around $2.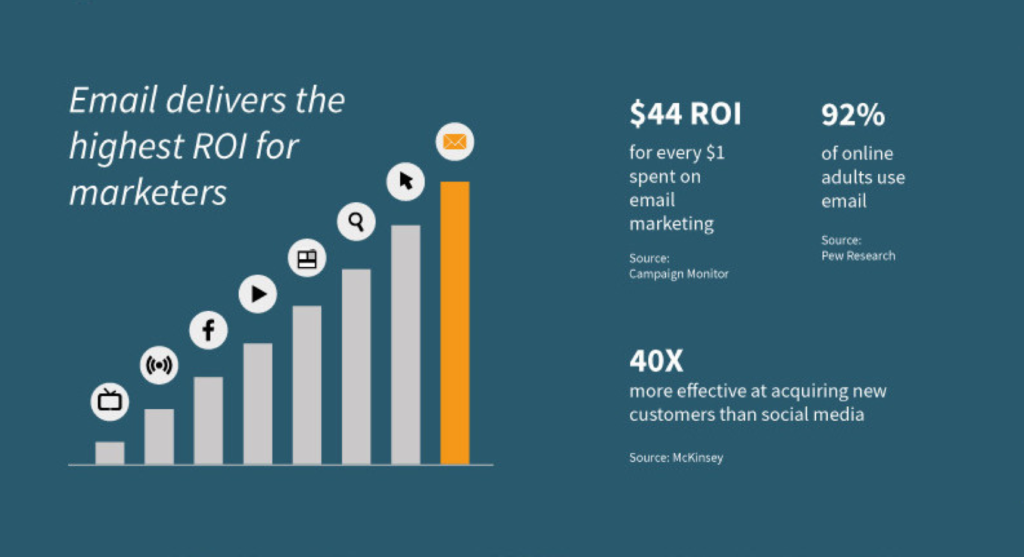 But every email marketing campaign kicks off with subscribers first signing up to your list. This means that you have to set up everything in order so that not only the maximum number of visitors subscribe to your email list but they also respond to your emails.
Although there are many aspects that turn email marketing into a successful marketing campaign, for obvious reasons, it's not possible to discuss all of them here in one go. Therefore, in this article, I will touch only on the most famous conundrum that every email marketer has to face when designing an email marketing campaign.
That's whether to go for the Single or the Double Opt In?
Since both have their own pros and cons, I'm sure that after reading this entire article, you will be in a much better position to decide what's best for you.
Just in case you're new to all this marketing stuff, let's start by discussing first the difference between the single and double opt-in subscription forms.
Difference Between Single Opt In vs Double Opt In
Everything being the same, the only difference between the single and the double opt-in is that in double opt in, the subscriber has to do extra work of logging into his email and confirming the subscription.
This confirmation is normally made by clicking the link sent in the confirmation email which essentially means that the subscriber is expressing his consent to become part of the mailing list.
The subscriber doesn't actually become part of the list unless he confirms and completes the second step as well.
As you'd have guessed, in a single opt-in, the subscribers become a part of your list just by entering his details as there's no need to confirm anything. So there's no second step of confirming.
At the outset, Single Opt in sounds like a go-to strategy for email marketing but for those who are new to email marketing, Double Opt In has shown some really great advantages over its counterpart.
While there are upsides and downsides of using both, I believe that instead of discussing the advantages and disadvantages of both separately, it's best to compare these benefits by pitting single vs double opt in against each other.
Advantages of Double Opt-In

Over Single Opt-In
#1. Reduction in Unsolicited Emails
Call it a meaningless prank, but there are cases where people enter someone else's email address to subscribe to the mailing list. This results in individuals receiving unsolicited emails from sources they never subscribed for.
Understandably, the recipient will think of you as a spammer if he receives emails for which he never subscribed.
To make matters even worse, this could affect your domain's credibility in case if these angry recipients report your emails as spam.
#2. Higher Conversion Rates
Email marketers have reported higher conversion rates with double opt-in forms.
This is quite natural as the subscriber has already shown his commitment by walking an extra mile to get into your mailing list. This shows his resolve that he's really interested to know what you have to say and receive updates from you in his mailbox.
Therefore, any future correspondence from your side will be met with relatively higher enthusiasm thus improving some vital metrics like the open rate, click-through rate and ultimately, the conversion rate.
This has been proven statistically as well. According to GetResponse, Single Opt-in, despite being able to generate more subscribers, fail to deliver higher conversion rates in the long run. Whereas with the double opt in, the email marketers have reported receiving as much as twice the conversion rates when compared with the single opt in.
#3. Improved Quality of Email List
Higher conversion rates mean that the overall quality of your mailing list is quite healthy. In turn, you can achieve higher sales/readership per subscriber as compared to when you go for the single opt-in approach.
Since the email marketing software charges you on the basis of the number of subscribers, the quality of your list always triumphs over the quantity and you want the maximum number of subscribers reading, clicking or responding to your emails.
#4. Fewer Emails Ending Up In Spam/Junk Folder
According to ReturnPath's 2020 Email Deliverability Report, nearly 6 out of 20 of all the global emails never reach the inbox where 7% of emails end up in the junk folder. Of course, you don't expect anyone to sift through their spam folder reading emails. I mean when was the last time you did that?
However, when it comes to the double opt in, when the subscriber confirms his consent of being part of your contact list by clicking the link in the confirmation email, he is actually conveying his mail service that the emails from the sender are not to be considered spam.
The advanced algorithms of the modern mail services take note of this activity and therefore, your emails don't end up in the junk folders, therefore, giving you high deliverability.
#5. Improves Domain Quality
Once your email is marked as spam, your domain quality may be affected.
When the recipient of the email marks your email as spam, this feedback is shared by other mail filters. This is called a feedback Loop.
When enough of your emails are marked as spam, this tarnishes your overall domain reputation and once that happens, the mail providers start sending more and more emails from the domain to the junk folder.
Normally, it's quite difficult to restore the reputation of the domain once it's damaged. Therefore, by using the DOI process, the risk of your email being declared as spam is significantly reduced.
Advantages of Single Opt-In

Over Double Opt-In
If by this time, you have tilted all your favors towards double opt-in then I'd suggest you hold your horses as I'm going to balance things out below. If you've already made up your mind for DOI then I'd point out that using single opt-in is also not without some benefits as it certainly boasts some advantages over the double opt-in.
Here are a few of them
#1. List Grows 20-30% Faster Than Double Opt-In
This is a no-brainer.
The lesser the steps in a process, the more convenient it becomes and improved convenience mean that people will respond to it more.
Therefore, if on one hand, the overall quality of the list built using single opt-in method is not better than the double opt-in, it gives you access to a larger pool of subscribers.
According to GetResponse, using the SOI method the list grows 20-30% faster thus potentially overcoming the disadvantage of having a low-quality list.
#2. Single Opt In is a Good Conversation Starter
According to Demand Metric, the number one objective for 74% of marketers is starting conversations.
SOI, by reducing the number of obstacles, SOI helps establish the initial link with your subscriber and once that's done, there are many other ways to get in their good books and generate more engagements from them.
#3. SOI Produces More Engagement
Now, that's surprising and contradicts one of the advantages of DOI that we discussed above. Right?
Well, actually no and here's how.
According to Litmus, if on one hand, DOI gives more open rate, clickthrough rate and conversion rate, SOI will always generate more opens, clicks, and conversions than double opt-in lists.
Notice the keyword, "rate" which takes into consideration the total number of active subscribers vs the total number of subscribers which is always going to be higher in DOI. However, in SOI, since the number of people who subscribe are higher, it's logical to assume that the people who engage with your emails are going to be those who'd complete the DOI process and then some more.
Is There Any Law That Makes Double Opt In Mandatory?
Now, let's touch on the legal aspect of Single Opt-in vs Double Opt-in.
The most important question to ask is if there are any laws that require email marketers to obtain users' data through double opt-in?
Well, there's no clear-cut ruling around it and the majority of the suggestions come under the "Best Practices" realm. Let's have a look at these laws very quickly:
The 2003 US CAN-SPAM Act does not require gaining users' consent before sending them emails. However, the emails and their subject lines should not be misleading

Similarly, even the EU GDPR law which is a bit more stringent than CAN-SPAM does not specifically mention double opt-in, however, many marketers are opting for it to follow the best practices.
Final Thoughts
While the single opt-in still remains the popular choice over DOI, it surpasses its competitors only marginally. What this means is that email marketers all around the world feel that they can achieve their desired results using either of the methods.
While both the SOI and DOI have their pros and cons, it's better to adopt a careful approach before choosing anyone while keeping in mind the demography and other necessary details of your target audience in your mind.